Learn to bake real authentic "SOUR" Sand Francisco Style Sourdough Bread.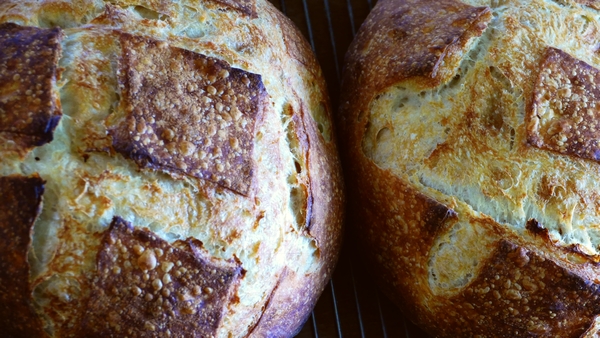 Learn a method for making authentic "SOUR" San Francisco Sourdough Bread
Use only water, flour, salt, sourdough culture, time and temperature
No commercial yeast is used
You will need basic sourdough baking equipment like a kitchen scale, baking stone or a Dutch Oven, dough peel, bench knife, lame, lid to hold in steam a good home oven, baskets/bannetons, etc.
Using a Dough Proofer or having a way to keep your dough at consistent temperatures is important in this course.
You will need a sourdough starter - I will show you how to make your own in the course.
For years the holy grail of sourdough baking, here in the USA, has been an authentically "SOUR" sourdough bread, like they used to bake in San Francisco. It is so sought after that bakeries will add a substitute sour like vinegar or "sour salt" (which is citric acid). The added "fake" sour flavor tastes fake and it isn't authentic. There's something quite wonderful about baking a real sourdough loaf that you can make as sour as you like, or for that matter, as mild as you like.
I've experimented for years, going on 14 now, to get a consistent "sour" in my sourdough bread. It's easy to get a sour bread by adding whole grains or even using all whole grains. However, to obtain a white flour San Francisco style sour loaf has been just beyond my grasp. I've baked plenty of sour loaves, but the consistency just wasn't there, my bread was sour sometimes and not other times. Part of the reason is because the literature insists that you need to use low hydration, cold bulk ferment to obtain the "sour." I never thought that was true but it held me back because I felt they must know what they're talking about. After all, it's in print right? ;)
So I finally went off the deep end and started experimenting with my own ideas and pre-conceived notions. And guess what? I figured it out. I can now bake a real authentic "SOUR" sourdough loaf with no more than white flour, sourdough culture, salt and water. I do have some variations from the all white loaf as well.
This course is not to teach you how to bake with sourdough, I already have ten courses that show you how to do that. So please don't join this course and get upset that it doesn't show you the basics (although there will be a lecture on how to make your own sourdough starter). This course is exclusively intended to show you how to bake a loaf of San Francisco Style bread that is "SOUR" like the authentic loaves of our past, that we here in the USA love so much.
This type of bread flavor is not usually sought after by other countries, indeed, they probably think we are crazy to love our deeply sour loaves, but there you have it! Come on and join me and discover (Finally) how to obtain the SOUR in sourdough.
Gluten Free consumers are now coming full circle as science discovers that long fermented dough is usually well tolerated by those with intolerance to gluten and other grains. It isn't for everyone and you should always ask your doctor, but perhaps you are one of the lucky ones who can indulge in real, chewy, thick and delicious sourdough bread. If so, welcome back to real bread!
Teresa
Intended Audience: This Course is intended for those who already understand how to bake with a sourdough starter. It is does not cover basic skills., This course is for intermediate and advanced bakers., This course does not cover beginning sourdough baking skills., The skilled home baker and professional bakers will benefit from learning this method., If you've always wanted to make your sourdough bread more tangy and sour this is the course for you.